WELCOME


Hi and welcome to... my site! As you can tell I am an absolute beginner at coding, and everything is under construction for the time being, but its fun so who caares :P. This mainly functions as my personal site where I'll host my OC stories, but also things I just generally enjoy and blogging. Enjoy your time or... I'll be sad.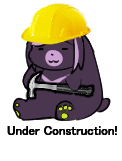 Resources

Lissaexplains

sadgirlonline

brackets.io

A lot of the pixels (and the BG) were made by me
The construction bear is my oc Grishma. She's actually a human (With bear ears) , but who doesn't love bears?